ISO 9001:2000 Certification
INTERNATIONAL TECNIMETAL, over the last few years, has turned an always greater attention to the concept of quality, hocking himself to guarantee such concept is in all the inside processes are also in the disbursement of services to get a more and more great satisfaction of our customers.
Such attention is at first changed into a continuous appointment toward objective challengers of efficiency and effectiveness in every business sector.
It has then concretized with the implementation of an integrated system of quality, that understands the ISO standard 9001:2000, by now become a must in Italy and in the world. In fact the standard 9001 of the international organization for the standardization ( ISO ) it represents an international agreement on the fundamental aspects of a system of quality to assure the effective management of any firm.
The certification, that represents a validation of our procedures of quality in accordance with the more rigid requirements of the sector, constitutes an advantage for the our customers, the our dependents and our partner. This result underlines our appointment to excel in the production of our products, and in every other aspect of our activity at global level.
The objective of the reached certification reenters completely in the strategic vision of the group: excelling in the management of the processes and of activities to all advantage of the customer. The finished run has allowed an in-depth verification of the efficacy of Tecnimetal International and of its activity of planning in the optics of the continuous improvement.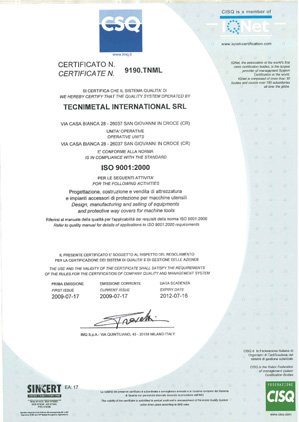 ISO 18001:2007 Certification