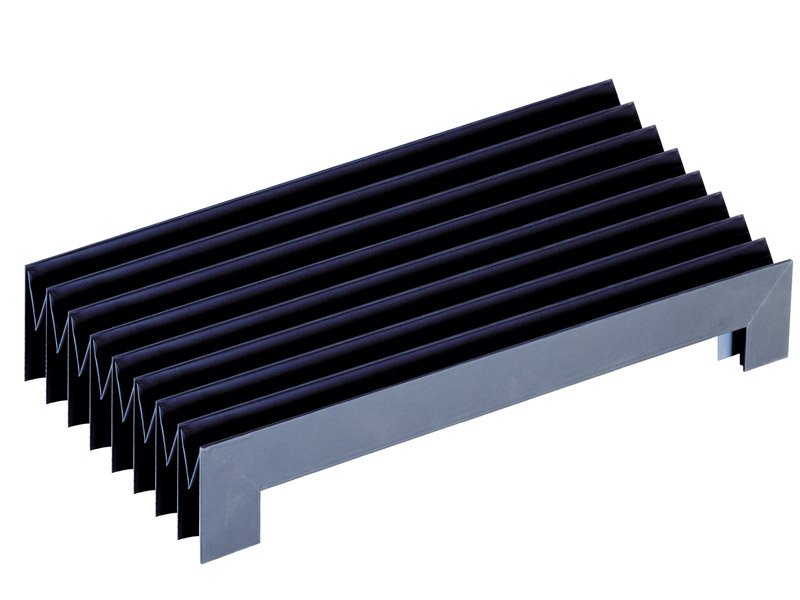 Bellows represent the ideal protection to be applied to any type of machinery to protect mechanical parts such as guide ways, screws, and other delicate parts of machines. Bellows are customizable in any form that is required at a very low cost as in most cases it is not necessary to produce a mold.
Quality
The peculiarities of bellow way covers are the reduced dimensions, the very high operating speeds, waterproofing and resistance to high temperatures. The materials used for construction of bellows are chosen according to the environment and the type of processing. The fabrics used make the bellows a barrier against coolants, hot shavings,
powders, and abrasive materials. Bellows are strain-resistant covers.
Each fold is supported by an internal frame, the fixing between stiffeners and fabric takes place by welding (without adhesives). The bellows are therefore watertight.
Bellows in heat-sealed execution are also provided with fixed slats of stainless steel material that protect against hot shavings, welding splashes, acids.
Bellow way covers are also supplied with a circular shape for the protection of shafts, worm screws, ball screws, airtight bellows or sewn based on the presence or absence of coolants. The bellows are also provided in rubber version, as well as protective caps, and are typically used as protective devices always aimed at preserving moving or fixed parts. The fields of application of rubber bellows are the most diverse: they can be used as protection for pneumatic cylinders, hydraulic cylinders, jointshomokinetic and transmission, worm screws, limit switches, cable passage, air passage etc.
The considerable experience accumulated in the various sectors in which we operate allows us to produce bellows and caps able to ensure excellent quality and durability.
The bellows way covers are built in one piece and without joints. They are easy to apply, guaranteeing complete protection for any mechanical organ without limiting its movement.
They can be built on design in any shape and size in the following materials: synthetic rubber resistant to mineral oils and emulsions; fabric coated in pvc, polyurethane, nbr, neoprene; silicone; teflon. operating temperature from -40 ÷ + 130 ° C. These bellows are therefore resistant to oil and grease (even when immersed), and also withstand atmospheric conditions. The bellows way covers are built according to the customer's design and request, in any shape and size.
They are equipped, on request, with sliding pads or with rollers. In case the bellows works vertically,it is foreseen the application of pantographs or limiting belts for a uniform opening and closing. Prices are on request only.
The bellows are used on all types of operating machines for the protection of guides, shafts and screws from external agents such as dust, coolants, oils, grinding powders, acids and shavings. The bellows can be produced in different materials according to individual needs.
Machinery and systems are constantly optimized and, consequently, even the characteristics required by the protective covering systems become, over the time, more and more sophisticated. With the development of laser and plasma cutting machines, extreme demands have arisen regarding the heat resistance of materials which, for a short time, must be able to withstand temperatures above 1,000 ° C.
Today, on the other hand, high-performance machining centers work with aggressive emulsions that separate chips at sharp angles at very high speeds and precision and work in confined spaces. In these cases, it is often necessary to resort to combined protection through metal fins applied to the bellows. Linear motors increasingly used, with accelerations reaching 180 meters per minute or more, require protective materials and flexible systems , tear-resistant, yet lightweight.
On the other hand, bellow way covers are increasingly being used in medical, measuring, regulation and food technology. In these cases, the requirements concern dust tightness and food compatibility.
The use of bellows is also increasing in the automotive industry in applications involving elevators along assembly lines.
Already their size of several square meters of base area requires a maximum of precision and running characteristics.
In almost all problem cases, a customer-oriented solution can be implemented and produced within a few weeks with the help of support competent by our motivated collaborators. We specialize in the individualization of development and production, according to needs of our customers, using the most advanced CAD tools.
The bellows comprise a series of products with infinite combination possibilities and basic components (material, shape, type of processing and dimensions) which can be adapted according to different needs. A fundamental aspect is that all the bellows are equipped, in each of their folds, with a stiffening frame of PVC which can be permanently fixed to the outer material of the fold, using two completely different types of processing.
The generally cheaper and currently more frequent solution is the heat-sealing variant which, however, has certain limitations.
With thermal procedures and by means of specially developed fluxes, an indestructible bond is obtained between the internal PVC frame and the external material of the fold. Thermal bonding is used in all cases where materials with medium heat resistance can be used. The heat-sealed bellows are maintenance-free, impervious to both water and dust, and are oil resistant as well as to some extent to acids.
The second variant is constituted by the "construction with stitching" which finds application above all in the use of materials at high temperatures.
With the help of efficient sewing materials (eg Kevlar), a lasting solution can be achieved even under extreme conditions.
Also in this case, the PVC frames are fixed in each fold, by sewing, making the bellows stable.
Thanks to the installation of the PVC frames, the heat-sealed bellows have an extremely high intrinsic stability. With a direct intervention on the bellows, even the restoration of the original form is guaranteed. This means a clear advantage over simple solutions of rubber or reinforced paper.
All bellows can be used for both horizontal and vertical use (also in combination). They guarantee features running smooth and very soft. By using thin materials, it is possible to achieve compression results suitable for confined spaces found in modern machinery.
OUR bellow way covers
The uniform surface finish and regularity of the profiles gives the bellows an excellent optical impression and makes the machinery more attractive.
The variety of bellows shapes knows no bounds. However, two basic forms are predominant: the Venetian and U shape. Additional stability it can be reached with the use of the so-called "rear handles" that surround the guides. With the use of oblique or roof shapes it is possible to improve the outflow of liquids.
The quadrangular shape is mainly used for tabletop applications (lift table, medical devices). It can also be mounted at a later stage and close it with adhesive tape or velcro or with adhesive tape closures.
The sliding characteristics of the bellows on the guides can be optimized with special sliding elements. Where on the bellows high initial accelerations act, it is possible to achieve smooth extraction thanks to locking devices. We can offer a solution for almost all technical problems.